Ignite Your Imagination with Madame Mak's Jewellery Workshops
Dive into the captivating world of jewellery making with Dahna's unique Jewellery Workshops. Whether you're a novice wanting to try your hand at wax ring carving or an experienced artisan looking to refine your skills, Dahna's workshops are tailored to suit your needs.
Learn the intricate art of lost-wax carving, gemstone setting, and organic ring creation from a seasoned expert. Join Dahna in her cozy Melbourne studio or from the comfort of your own home via live 1:1 interactive Zoom classes.
Unleash your creative potential, create unique pieces, and experience the joy of jewellery crafting today!
Step into Dahna's Melbourne Studio: A Haven for Jewellery Crafting Enthusiasts 🎨🔨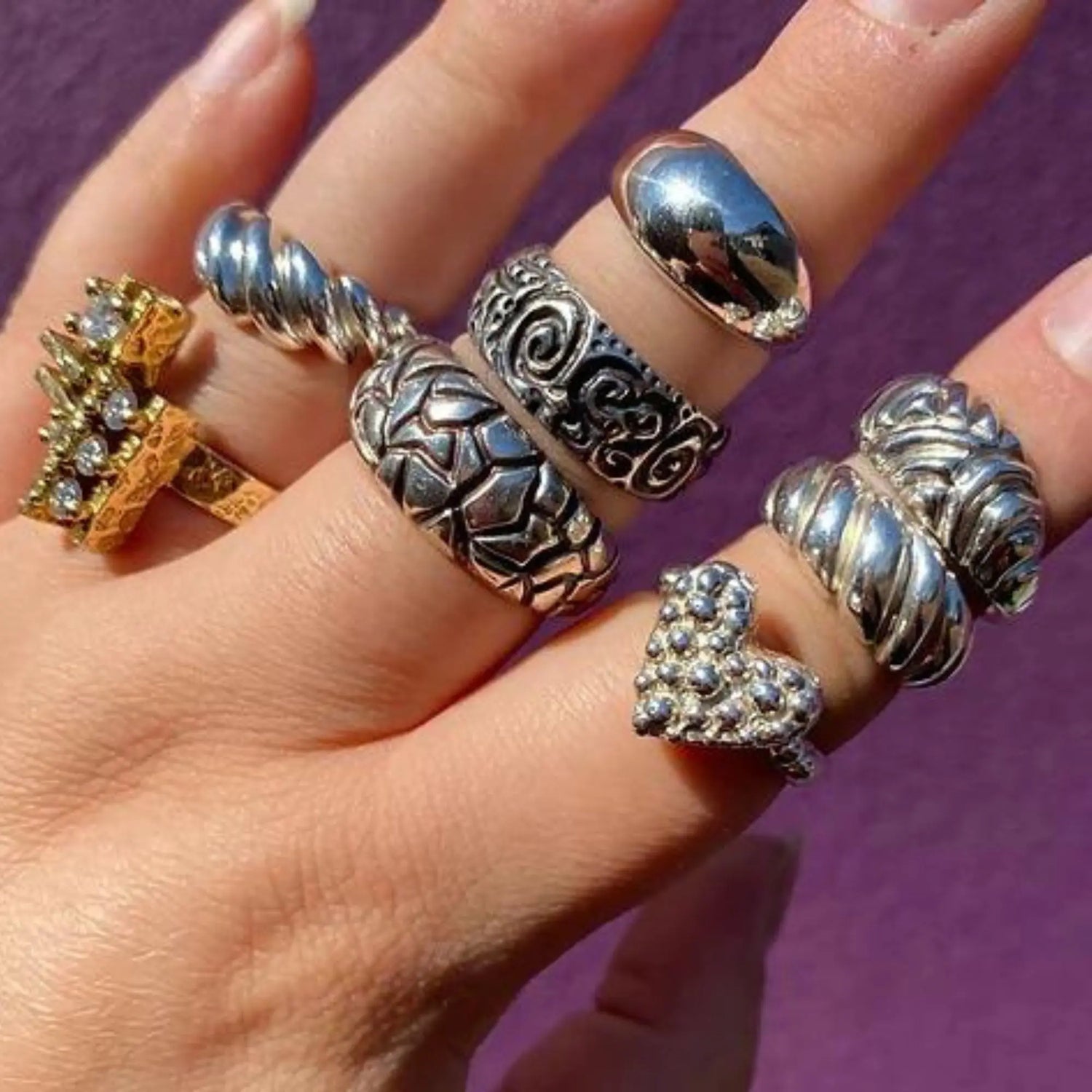 🎉 Begin Your Wax Magic: Lost Wax Ring Carving
Embark on your ring-making journey with this introductory workshop, perfect for total beginners! ✨ Create a stunning silver ring or a set of simpler stacking rings. The casting wizards will transform your wax model into silver offsite, and you'll return in two weeks to polish and shine your masterpiece. 💍✨ No experience? No worries! Let the magic begin! 🔮
🚀 Start Your Ring Adventure Now!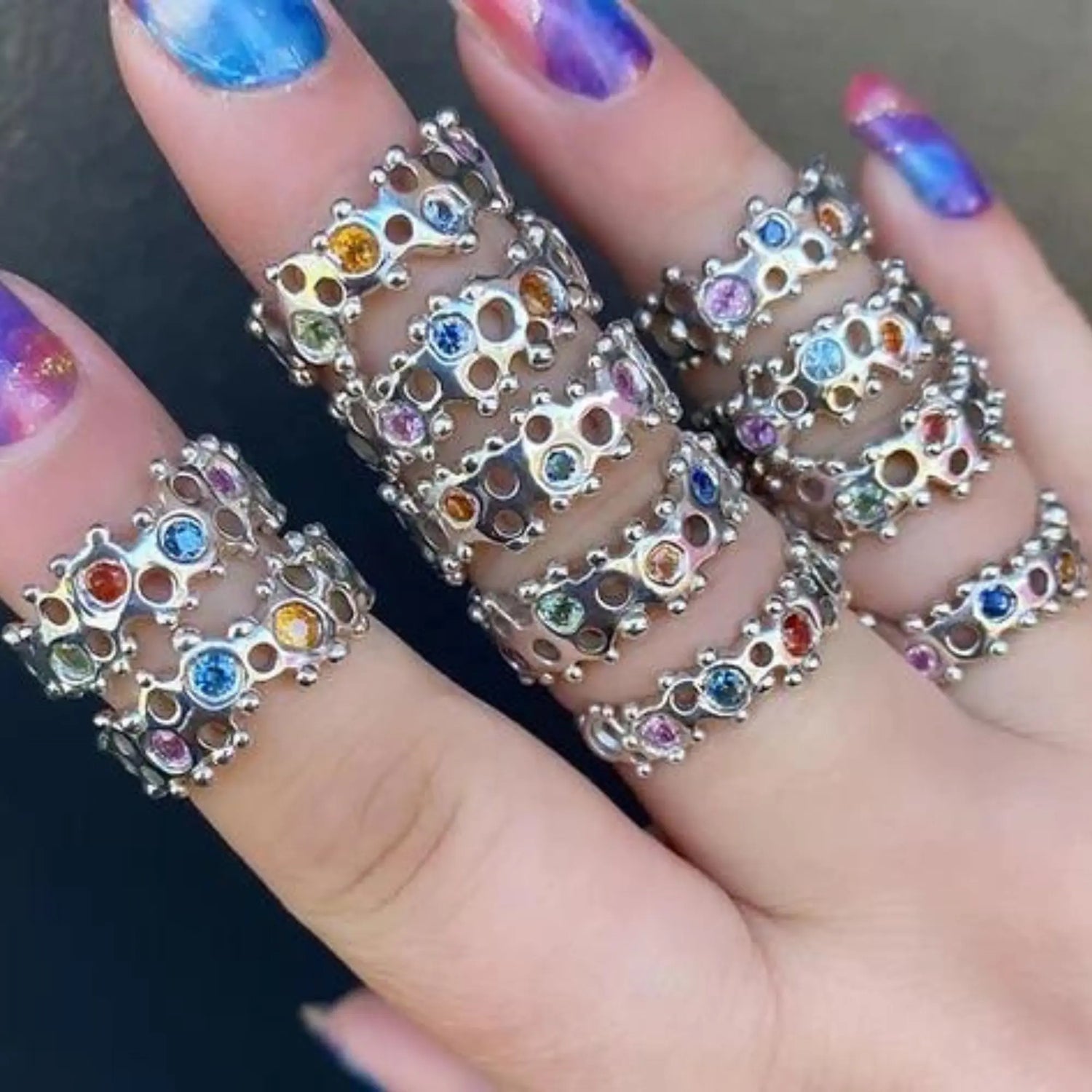 ✨ Cast-Not-Set: Gemstone Setting in Wax
Ready to level up? This workshop is for those who've mastered the basics. 💪 Create a dazzling silver ring with gemstones set directly in wax, using the popular cast-not-set method. 🌟💎 Pick up to 5 synthetic round stones in different colours and sizes. The casting magicians will work their magic offsite, and you'll return in two weeks to finish your sparkling creation. ✨
💎 Create Dazzling Gemstone Rings Today!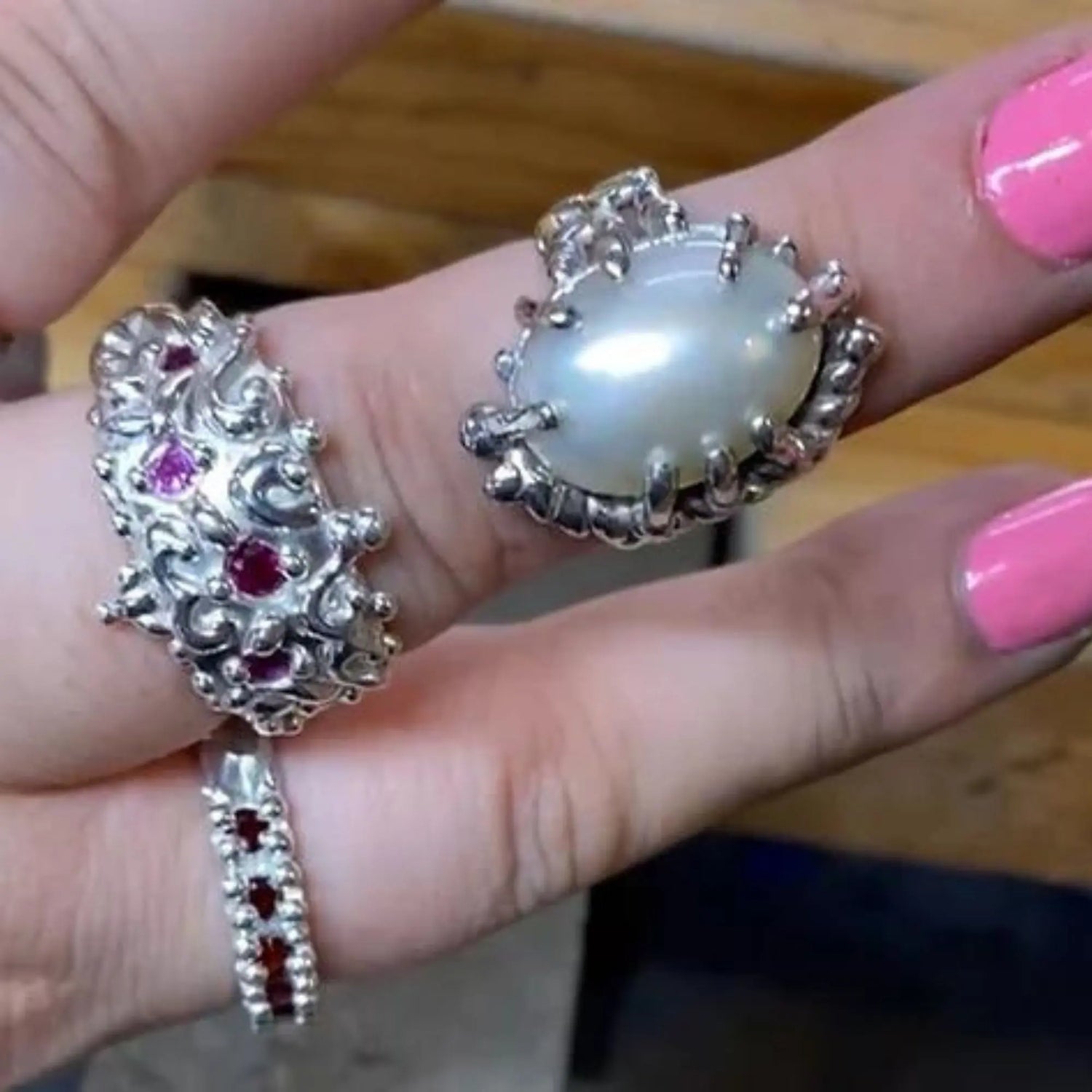 🌿 Organic Cabochon Bliss: Claw Statment Ring
Get ready for an intensive 1:1 intermediate/advanced workshop that's perfect for organic and molten cabochon ring enthusiasts. 🌱💍 Create a silver ring in wax, housing a gorgeous cabochon gemstone with an organic claw setting. Come back in two weeks to polish and set the stone in your ring. You'll walk away with a true work of art! 🎨✨
🍃 Craft Your Organic Masterpiece Now!
🌐✨ Live Zoom Classes: Unleash Your Creativity from Anywhere In The World!
Can't make it to our Melbourne Studio? No worries! 😄 Jump into one of Dahna's live Zoom classes from the comfort of your own space. 🏠💻
Just like the in-studio sessions, you'll get to create a piece of jewellery under my watchful eye, all while sipping your favourite cuppa! ☕️🎨
We'll carve, we'll laugh, and we'll create something cool together. So, pull up a chair, grab your tools, and let's get carving!
All you need is a reliable internet connection and a passion for all things shiny! ✨🌟 Ready to turn your living room into a jewellery workshop? Let's do it!
🌟💬 "Sparkling Words from Dahna's Workshop Participants!"
Best teacher there is! Not to mention the detailed PDF's that arrive after the course

The best decision I made was reaching out to Madame Mak Jewellery. This talented boss babe is a wealth of knowledge and support. Her courses are second to none! What started out as a beginner's class turned into completing all available courses. Dahna is truly one of a kind and has absolutely become a most valued friend and confidante. Not only has Dahna been there for me professionally and helped build my little jewellery business – she has always been there for me as a friend

-Amy G, "Fearless and Free 925"

I love to continue learning and have taken quite a few courses over the years

I can't thank you enough for the class yesterday and suffice to say I have been at the bench practicing ever since. I went and got a little soldering iron as soon as we finished up yesterday – wow what a game-changer for me! Totally blown away by the manual content – so comprehensive and full of all the info you could ever wish for. So happy to have found and met you. I can see a beautiful smithing/waxing/all things jewellery friendship on the horizon. Thanks so much, darling!

-Kerryn D, "Wildsmithing"

Dahna's wax ring making jewellery course was the best thing I've ever done!

I took on the Introductory Lost Wax Ring Carving Workshop. Dahna took me step-by-step thoroughly through absolutely everything that involved getting the ring to its final stage. From the different kinds of wax, how to saw and carve to all the types of equipment necessary to use on wax. Everything was clear and easy to understand, and Dahna is wonderful. She's so down to earth, hilarious, and makes the best food!!!! And so clever. She's got tips and tricks you'll use for a lifetime.

-Claire M